So I finally saved up and ordered two polishes from The Nail Junkie... and they were SO worth the wait! <3
My original order was for Tea and Cocoa, as I couldn't afford all three.. but there was a slight mixup and I got Coffee and Cocoa. Which is not a problem, because Coffee was saved for me to buy later. But I let Aleta know and she offered to send me out Tea straight away, which was so lovely of her as I would have happily bought it after Xmas when I was going to buy Coffee!
So this is how they arrived - I am so impressed at the packaging! Each bottle came in a cute little cardboard protective cylinder, complete with The Nail Junkie logo sticker and also a sticker with some hints and tips as how to get the most out of each polish. I also got her beautiful business card wrapped with 5 little red felt pads. How lovely!
And this is why I love indie polish makers - the personal touch! A lovely little hand written note to go with it, with the Nail Junkie logo printed on the outside and then sealed with a little sticker :) (I love stationery almost as much as I love painting my nails) I must admit that there was also a beautiful little cuticle balm enclosed as a free gift. I carried it around for ages after using it, trying to find somewhere safe to put it, but now I can't remember where that was.. so I will include the picture from Aleta's website instead!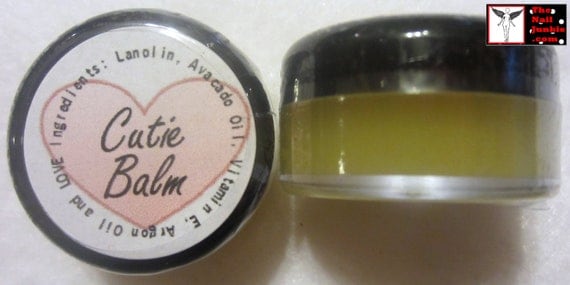 (Image Source:
The Nail Junkie
)
I love the bottles that all of The Nail Junkie polishes come in. They feel bigger and chunkier than normal polish bottles, but they have a nice big lid which I find easier to grip, and I've said before that I love the labelling - you can see the beautiful finishing touches of the Nail Junkie sticker on the lid, and the individual imaged stickers that signify the polish name.
So I've got Cocoa to show you today - it's a beautiful rose golden shade that I've already mentioned in my previous post but only briefly. Once I have the full set I'll be rocking some serious Ombré nails <3 All Nail Junkie polishes are 3 free and cruelty free and come with stainless steel balls to help with mixing.
The application of Cocoa was lovely. I have two coats on in the pictures, but I only have one coat on my left hand and they are 100% covered, the only slight difference is that it is a slightly lighter shade. They have gone on so smoothly - I dont know if its just me, but I love it when you've just put a new polish on, and after the topcoat, its dead smooth. It might just be a habit of mine but if I'm sitting pondering I always run my thumb over each nail and if its not smooth, its not right! With these, I haven't even got a topcoat on. And they're so smooth and shiny. Love love love.
So this is two coats - no undies or topcoat. Look how shiny it is. It really is beautiful.
And just for comparison, I've included my left hand. You can see its a bit messier as I'm left handed, but theres one less coat here and you can also see the shade is just a tad lighter, but still has 100% coverage. Really lovely!
Now these two pics are just really for me. I love (in this order) nail polish, stationery, and giant cups. I have a collection of about 6 different ones, and this one is especially for my hot chocolate. I just had to have a photo of my Cocoa polish with my cup of hot cocoa :)
And just incase you missed them, here's my saturday night mani - which I fixed up using my beautiful new Cocoa polish. I love the two tones, this is Ciaté Ladylike, but I think the shade is just a teensie bit too yellow, so I am on the lookout for a different gold shade to go with :)
If you love Aleta's polish as much as I do, then you can find it in her store attached to her
website
, or on
Etsy
. Polishes are priced at $10 each (£6.18) and shipping internationally is $5 (just over £3) no matter how much you buy and free in the US, which is a steal compared to a lot of indie polish makers! $1/62p from each polish is donated to a charity of her choice - currently all profits are going to help children who are living in poverty (what a lovely cause).